How to approve Facebook app permissions? [ADVANCED]
In this article you can find instructions to create your Facebook app and get it approved with the needed permissions for
Social Login
and
Social Sharing
products. This is not an easy process in Facebook and requires your patience BUT we're always here for you. Feel free to contact us if you will need any assistance.


Creating Your App
1.

To communicate with Facebook, you need to create a Facebook application. To setup a new Facebook application, please go to the following URL: developers.facebook.com/apps. Make sure that you're registered as a "Developer" on Facebook while creating your app.
2.

Next you need to create a new App. You can do this by clicking the Apps tab followed by "Add A New App."
3.

This brings you to a page where you are asked to enter a name for your app.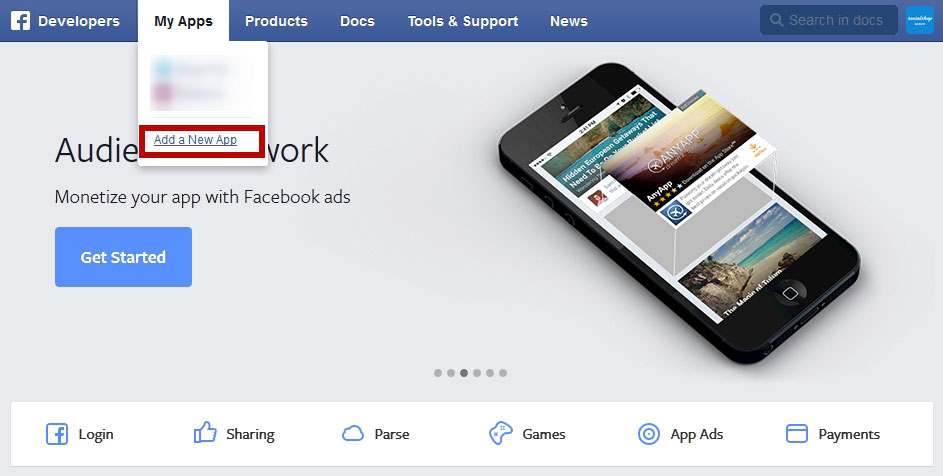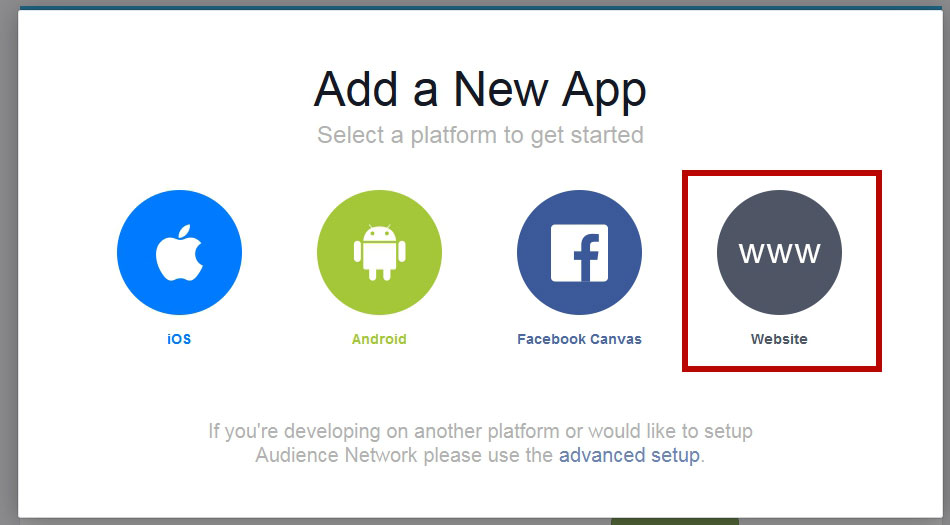 4.

And finally, you will be asked to choose a category for your app.
5.

After that, you'll be redirected to a page where you need to enter your website's URL. You can find this field by scrolling all the way to the bottom. Enter your site's URL and click on the "Next" button.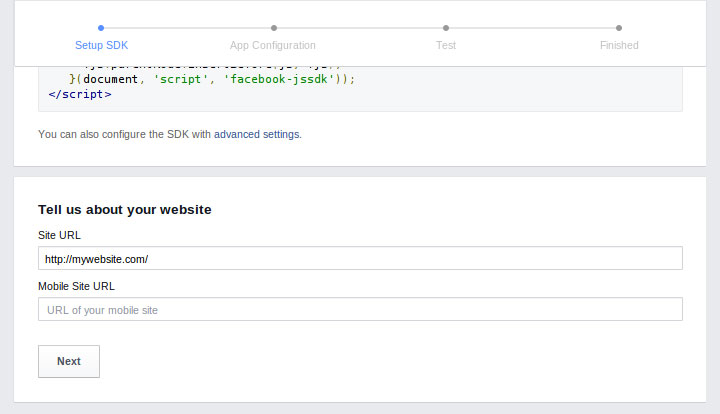 6.

After clicking the next button you will be shown a message that says "Finished!". Refresh your page and click on "Apps" link again at the top where you'll find your newly created app. Once you click on your app, Facebook will give you a series of forms to fill out.  Make sure to take note of the numbers next to the word "App ID" as you will have to input it into our Admin Panel later.

I.

Your app "Settings" should look like the screenshot below. Please make sure the "App Domain" and "Contact Email" fields have been filled out: 




II.

Next click on the "Status & Review" tab and make sure that you make your App public.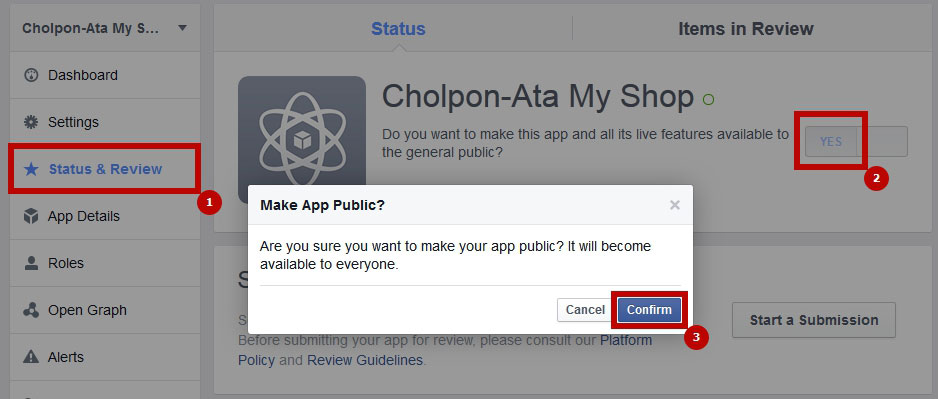 Linking to SocialShopWave
Once you have created your Facebook app, log in to our admin panel and go to the Social Login > Social Services page. Enter your App ID into "Facebook App ID".

At this point, you have completed your App Configuration and user signup via Facebook (fconnect) should work! The "Posting to Facebook" feature, however, will not as it requires 'publish_actions' permission. The "Test Users" (if you create one from "Roles" tab) and the App owner's registered email address will be able to post to Facebook, but the rest of your user base will not.

Testing your App: 
1.

Head to the "Roles" tab and click on the "Test Users" section and create a new user from there.
1.

Open your site http://mywebsite.com in another browser. Click on the "Facebook" icon in our Login Modal window and a pop-up will open asking you to login to facebook.
2.

Log in with the test user's credentials you have created and complete the signup process on your site as well. You can test to make sure everything is in working order by posting on Facebook from the Community Feed on your site.

Submitting your App for Review  by Facebook
If you would like to obtain "publish_actions" permission for your app you can do so by following the steps below:

NOTE: While creating your Facebook App and submitting it to Facebook, you are required to upload at-least 4 screenshots of Facebook integration on your website. For your reference, we have created some sample screenshots which are attached to this article. You can create similar screenshots for your website and use them for your Facebook App submission.

Now that you have completed the basic Facebook Integration, the following steps will guide you through submitting your Facebook App. 
You need to request "publish_actions" permission for your Facebook app. Go to your Facebook App that was created using the previous steps. [Note: Wherever you see notes written in brackets, you need to provide those pages, links or URLs according to your website. Also, you need to provide your website's test user's login details while submitting your app so that Facebook team can review your App easily. You can use above created "Test User" login credentials for this.] 
Go to your Facebook App and click on 'App Details' tab to add "Long Description" and provide "Privacy Policy URL". 
You can also refer to the below example descriptions:
 
•

Example Long Description: Our App uses Facebook details to enable users to post Facebook updates from our site and to access a user's birth date.
"Privacy Policy URL"
- You have to create new Privacy Policy page or provide existing one's URL.
5.

Upload an "App Icon" and "Small App Icon" in 'App Details' tab with recommended 1024 X 1024 px and 16 X 16 px sizes respectively. Click on 'save changes' button on the bottom right side of the page.

6.

Go to the "Status & Review" section. Click on 'Start Submission' button in the bottom right corner of the page. A popup will appear. Select "publish_actions" permission and click "Add Item".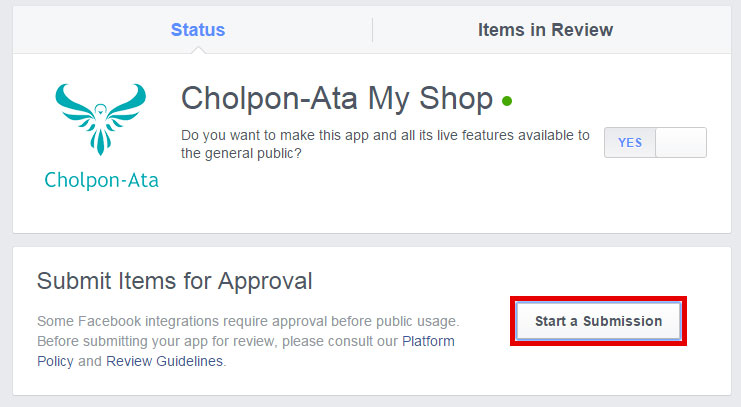 7.            You will see that this permission has been added to the "Status and Review" page. Now click on the "Add Notes" link available against the "publish_actions" permission and fill the following text for the two fields for this permission:
8.     Publish Actions:
1.    Please explain how you are using publish_actions to enhance a person's in-app experience:
2.    We are using "publish_actions" to allow our users to share their liked items(products, clothing and etc) to their facebook wall. Users have control over what to share and when to share.
3.    Please provide step-by-step instructions so our review team can reproduce how you are using publish_actions in your app:
Click the "Log in" button.  

Sign-in with Facebook

Click the "Feed" link in the main menu

Click the "+ Share" button

Type something in text-area and turn on Auto-Share Facebook icon. 

Then click the share button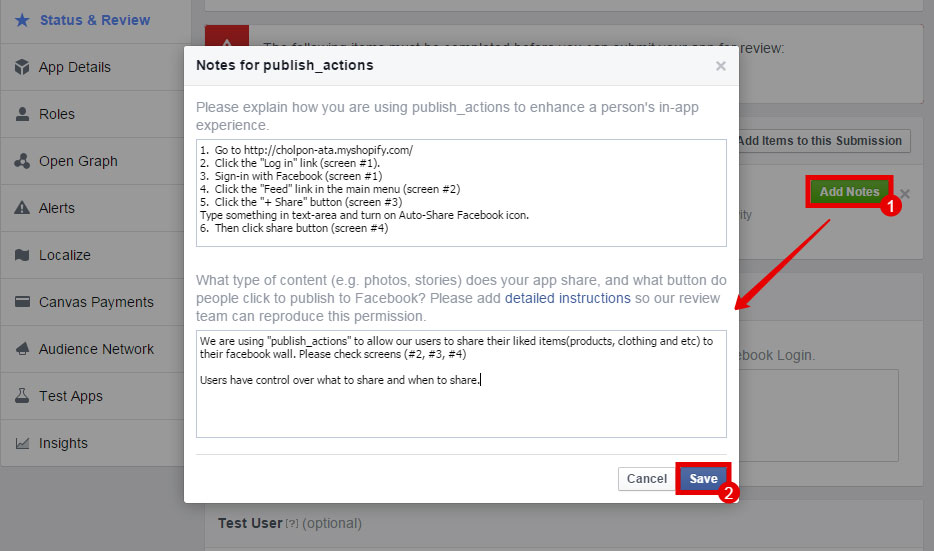 9. Facebook Login Integration:
1.

Please provide step-by-step instructions that show how to access Facebook Login:
1.

Go to http://yoursite.com/pages/feed
2.

Click the "Log in" button.  
3.
Sign-in with Facebook

10.

Please select Test user and upload at least 4 screenshots(which you've referred in your notes above) to get your application submitted for approval.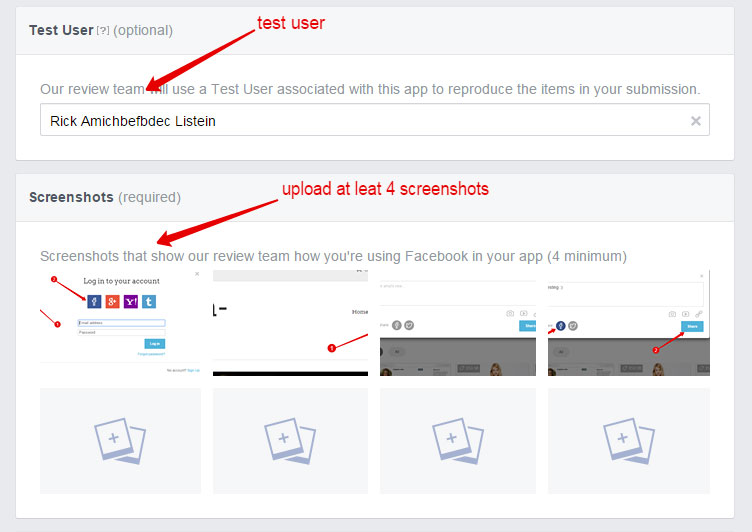 I've uploaded the following screenshots:

#1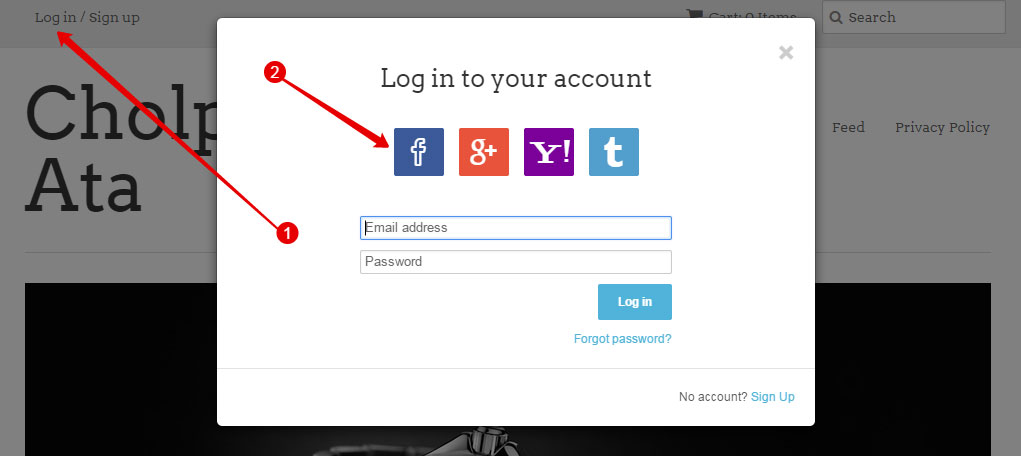 #2



#3



#4

11.

Click on "Submit for review" to submit your application for Facebook approval.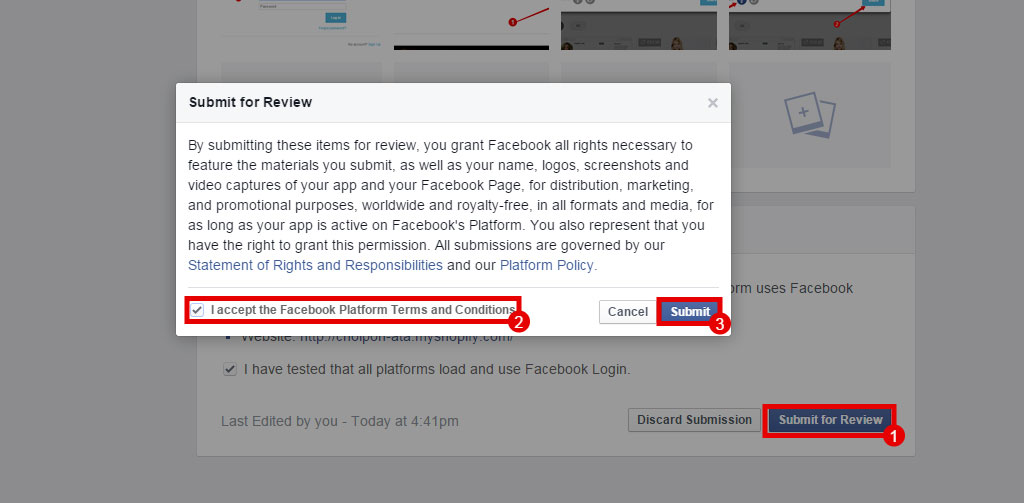 Please feel free to contact us if you face any difficulties - 
https://growave.io/contact-us